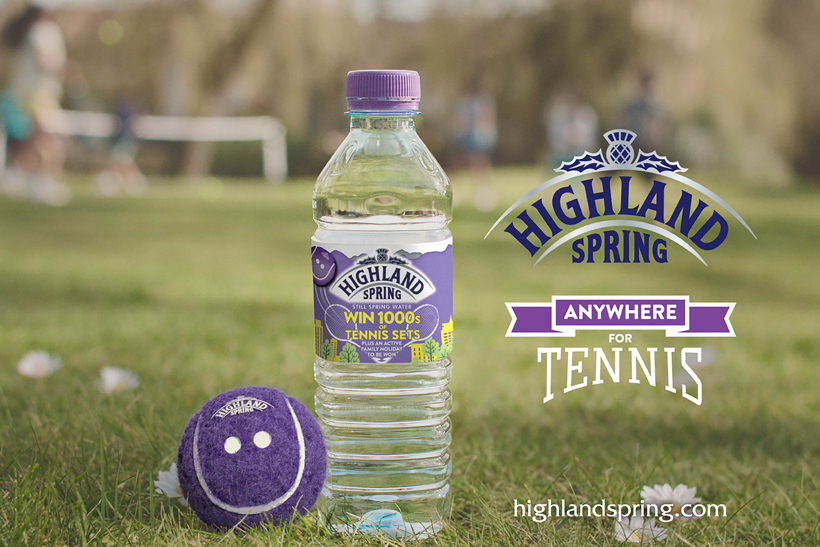 Highland Spring recently commissioned research into British family communication and leisure time, revealing that despite us being more connected than ever (sending 6000 texts, 260 emails and spending 37hrs on the phone per year!) The average British household spends under an hour of face-to-face time together each day without a screen. The research revealed however that there is appetite for change and 80% of families say they know they need to be more active.
Wild Card acted on these findings by launching the Anywhere for Tennis with Highland Spring campaign backed by the Lawn Tennis Association (LTA), alongside the brand to help inspire British families to get away from their devices and get outdoors, be more active and to adopt healthier hydration habits. An "on pack" promotion is now live, offering the chance to win one of thousands of limited edition tennis kits (also available via exclusive media promotions.)
Who better than Judy Murray, mother of Wimbledon champion Andy, to put fire in the bellies of families up and down the country.  A morning in the studio ensued which resulted in fantastic conversations with the likes of BBC Radio 2, Sky News Radio and Talk Sport as well as regional stations from BBC Radio Solent to Central FM Scotland to discuss the topic at hand.
To date, the campaign has generated more than 400 pieces of media coverage including 31 nationals, 13 radio interviews and syndication across more than 300 regionals. Look out for Anywhere for Tennis and grab a bottle of Highland Spring today for a chance to win one of the limited edition tennis kits. You can follow the campaign on Twitter: @Highland_Spring #AnywhereforTennis